The genesis for last weekend's All Pulling Meet was a comment on Facebook by Adam Glass. The suggestion was for a meet consisting of all pulls: 2″ dumbbell snatch, clean, 2″ axle deadlift, 3″ axle deadlift, and a Dinnie lift. I loved the idea immediately, but didn't get a chance to schedule it until recently. This idea for a contest no doubt has  some roots in the fat dumbbell deadlift, clean, and snatch that we were playing with in the spring and early summer of last year.
The turnout for Saturday's contest was fantastic. Among the 16 competitors was national strongman champion and Juggernaut Strength athlete Maya Camille Winters. Watching her lift was, naturally, a treat. I personally especially enjoyed introducing some new athletes to grip sport and all-around lifting.
In the 2″ Dumbbell Snatch, our own Joe Goodin took the top placing with a 95lb snatch, just shy of the 100lb barrier. Perhaps unsurprisingly, Maya took the lead for the women with a 65lb snatch.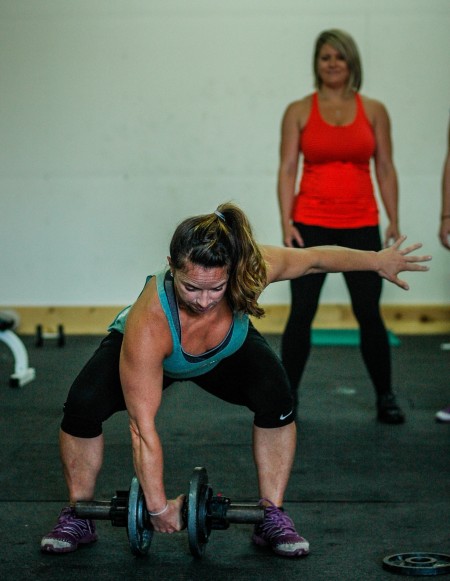 Moving on to the 2″ Dumbbell clean, Joe was again out front with a superior 110lb snatch. Justin Haynes, who had never competed in grip sport took a surprise second place early in the meet with a 105lb snatch, which is an absolutely phenomenal first effort. Maya again demonstrated her strength taking first, however she was followed closely by Kathi Burger, who is a perennial competitor at The Movement Minneapolis, with an only 5lb lower clean.
From the quick lifts, we went to a 2″ Double Overhand Axle Deadlift. Joe Goodin pulled an impressive 350lb deadlift here to solidify his lead in the contest. He was followed by myself, David Dellanave, with 315 and Justin with 300. Too big of a jump in weight selection cost strongman Kyle Russeth a higher ranking in this lift. Maya winters pulled a fantastic 233lb deadlift, followed closely by Kathi with 203.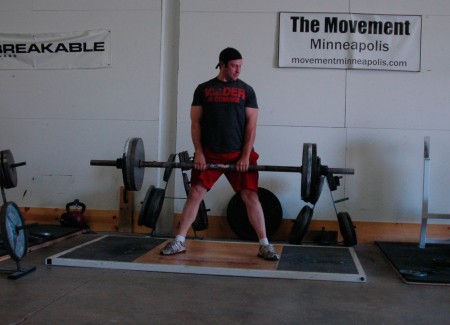 Going into the 3″ Thumbless Mixed Grip Deadlift Joe Goodin had a commanding lead with 58lbs more total lifted. That was not to remain the case, however. With a 460lb pull to his 450lb lift, I was able to barely knock Joe out of the top spot in Lynch-adjusted ranking due to my lower body weight. Justin put up another impressive first-time lift with 450lbs. My favorite lift of the day, however, was newcomer Luke Faust getting a deadlift PR of 320lbs, breaking the 315lb barrier that had he had plagued him. In the women's division, Jen Sinkler pipped Kathi for second place with a 275lb deadlift to Kathi's 230lbs. Again, not surprisingly, Maya was on top with 300lbs.
Finally, we came to the Dinnie lift. A scratch due to opening too high cost Joe Goodin a sure win for the day, which I was able to capitalize on with a 650lb lift to secure the 1st place spot. Kyle Russeth demonstrated his strength with a 630lb lift, but young gun Justin Haynes upped the ante with a 635lb Dinnie lift.